Many patients worry that having a catheter will stop them going on holiday or travelling. But not only is it possible to travel with an indwelling catheter, many catheter users travel regularly without any problems. Follow these top tips about flying with a catheter to ensure your journey goes as smoothly as possible:
1. Pack the right products
Make sure you have enough products with you for at least 2 catheter changes in case you need an emergency change or should one of the products become contaminated. Remember to include everything you need for a change including:
– The catheter with inflation and deflation syringe
– Lubricant Gel
– Enough leg bags for your stay and at least 2 spares
– Sterile gloves if you have been trained to perform your own catheter changes
2. Pack your products in the right bag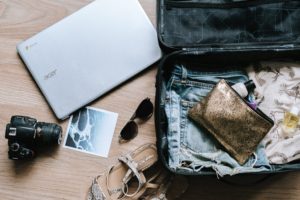 Try to keep a proportion of continence products in your cabin baggage, just in case your hold luggage gets lost or misplaced. Keep some hand sanitizer available in your cabin baggage incase the onboard dispenser is empty.
3. Contact your airline
Call your airline in advance to ask if there is anything specifically they can advise or provide for patients who are travelling with an indwelling catheter.
4. Give plenty of time for security
Thousands of people travel with an indwelling catheter every day. Airport security should be accommodating for you. Ensure you get a travel certificate from your doctor before travelling to ensure the smoothest passage through security. A travel certificate is essential if you are carrying medical liquids of more than 100ml or large amounts of medication.  You can also request a private screening if you prefer not to expose your drainage bag in a public area.
5. Consider using a leg bag
If you currently use a catheter valve, it may be a useful to use a leg bag instead of a valve during the flight. Using a larger capacity leg bag like the LINC-Flo 750ml leg bag reduces the chances you will need to use the inflight bathrooms which can be unhygienic.  Always check with your healthcare professional before changing your drainage type.
6. Empty your bag before the flight
Make sure you empty your bag before the flight to avoid using the inflight bathrooms if possible.
7. Have adequate medical insurance
You may need medical assistance during your stay. So get adequate medical insurance. This is essential for travel outside of the EU. Currently EU travel can be covered with a European Health Insurance (EHIC) card, but the validity of this scheme for UK travelers is likely to end after BREXIT. Therefore consider comprehensive insurance for travelling inside the EU too.
8. Know the nearest hospitals in your destination
Before you travel, research the nearest hospitals in your destination and find out the relevant phone and emergency numbers. Make a note of which hospitals are reimbursable under your travel insurance policy.
9. Stay hydrated
While you are away,  take care to drink sufficient fluids and follow your healthcare professional's guidelines on diet and catheter care.
10. Use the right catheter for you
Blockages and other complication can ruin a holiday. Make sure you are using a catheter that is optimized to prevent complications such as blockage and poor drainage, like the LINC Open Tip which has 3 drainage holes. This can help to ensure a problem free holiday. As one patient recently said: 'Another holiday completed with a LINC catheter. They are Simply Amazing'
Now Relax! With good preparation, it's possible to get away on holiday, enjoy yourself and not be limited by your catheter.
Thanks for reading!